Try Out the Market Without the Commitment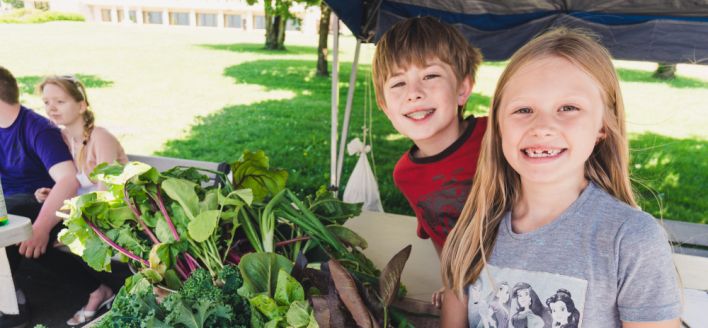 Maybe you have an extra-large harvest out of your backyard one week, or maybe you want to test drive the market with your edibles. Come to the Community Booth to sell your goods! We provide a table and tent and no membership fee!
Each week, market staff will provide a space for community members to use for the purpose of selling goods during market hours. Charged at a rate of 10% of total sales, this is a low risk and cost-effective way for vendors to sell quantities that would not justify a booth fee and it's a good place to learn marketing techniques.
The purpose of the Community Table is to:
Provide a direct market outlet for home gardeners with extra produce
Provide an outlet to new farmers and backyard gardeners who are not yet ready or able to operate their own stall
Add to the diversity of the products at the Stevenson Farmers Market
Crafts, arts, and most other inedible goods are not permitted at the community table. Full booth spaces may be available upon completion of vendor application.
If a vendor wishes to use the community table more than once a full vendor fee will be due. A vendor's ability to sell at the community table may be reassessed after using the Community Table four times during one market season. After that, market staff may refer the Community Table vendor to full or shared booth space at the market.